Central Executive Committee
At the 3rd Party Conference held on 29 November 2015 members elected the following individuals to the CEC. The members of the 4th CEC of the Reform Party are:
Mr Andy Zhu (Chairman)
Mr Kenneth Jeyaretnam (Secretary General)
Mr David Tan (Treasurer)
Mr Mohammed Affendy bin Abdul Rahim
Mr Razak bin Sidin
Mr Jack Lee Phing Yin
Ms Biddy Low Guat Hua
Ms Antoinette Yzelman
Ms Cindy Sim
Ms Noraini bte Yunus
Mr Jesse Loo
Profiles of CEC members


---
Mr Andy Zhu
Mr Andy Zhu (Zhu Laicheng, 朱来成) grew up in the heartlands, and was educated in our local educational institutions. He is currently working in a Real Estate company as a Senior District Manager.
Andy joined The Reform Party in 2008 and has been a committed and active grassroots member for outreach programs contributing to the party. Being a sociable person, he had greatly enjoyed meeting with fellow Singaporeans, hearing their views, as well as getting to know Singaporeans better as friends and neighbours.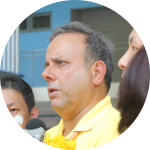 ---
Mr Kenneth Jeyaretnam
Mr Kenneth Andrew Jeyaretnam is the Reform Party Secretary-General. He has over 30 years' experience in the finance industry, most recently as manager of his own Hedge Fund but including roles as an investment banker with Nomura and the merchant banking arm of HSBC. The son of the late J. B. Jeyaretnam, his business background and political pedigree is matched by his academic qualifications with a first class honours BA and an MA in economics from Cambridge University.