About us
The Reform Party was formed on 3rd July 2008. An active political party in Singapore, it was founded by the late Mr J. B. Jeyaretnam, the "father" of the Opposition in Singapore. His struggles against authoritarian government are familiar to most, if not all, Singaporeans. Through his sacrifices he showed Singaporeans that democracy and the freedom to choose was their birthright and that government should serve the people, not the other way round.
Mr J. B. Jeyaretnam sadly passed away on 30th September 2008. However his legacy to the nation, The Reform Party, is strong and committed to carrying on with the work he started.
What we stand for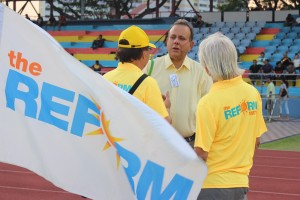 The Reform Party's vision for Singapore is one of a people-oriented diverse and democratic community with full participation and freedom of expression. Our vision is of a Nation which fosters inventiveness, creativity and the origin of ideas in a climate of security and trust. A Singapore where we can build a genuine Singaporean identity by de-emphasizing outdated racial classifications. In short, a Nation which will make full use of our finest resource – our people. A young Nation which, can hold its head up with pride in the 21st Century as a true democracy worthy of inclusion with the longstanding free nations of the world.
More information
To find out more about us, read about our Central Executive Committee.